TwitchCon Europe 2019
This year StageHands had the privilege of working at the first ever TwitchCon held outside of the US. Twitch is a streaming service that mainly broadcasts players as they give commentary while playing video games. This can range from speed runs of classics like Super Mario to walkthroughs of the newest game releases. Hosting over 2 million individual streamers monthly, Twitch is one of the most popular video streaming services in North America.
While there our crews helped to set up the displays for an exhibition at this event. Booths, audio, and lighting all needed to be set up. But most importantly dozens of delicate computers, screens and other electrical equipment needed to be set up. Thankfully all of our crew members have hundreds of hours working with such electrical equipment and with minimal direction set up was a breeze.
Although there is always hard work involved in events like these it can also be a lot of fun. Seeing an area go from completely empty to having an amazing display with unique and impressive designs and decorations is very satisfying. And knowing you helped to create such a thing is a very fulfilling feeling.
If you are planning on participating in similar events StageHands would be more than happy to provide you with any crew support you may need. From lighting and sound, to stage and rigging set up, and much more StageHands has the people you need in order to make your next event happen. For more information please contact us at Stagehands.net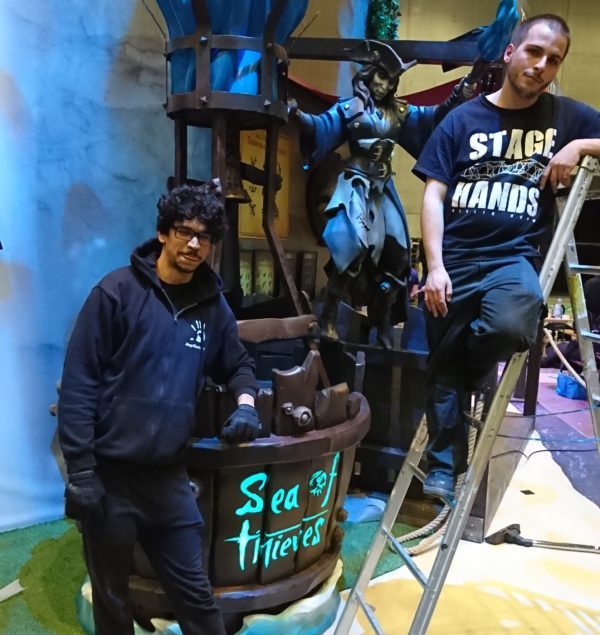 DL
https://stagehands.net/wp-content/uploads/2019/04/TwitchCon-06.jpg
1155
2159
SuperAdministrator
https://stagehands.net/wp-content/uploads/2015/12/sh-logo-2.png
SuperAdministrator
2019-04-30 14:47:26
2019-04-30 14:48:26
TwitchCon Europe 2019